What is RLS App?
RLS App is a mobile app that relates causes with symptoms and shows results on charts in order to help specialists to find possible treatments or cures.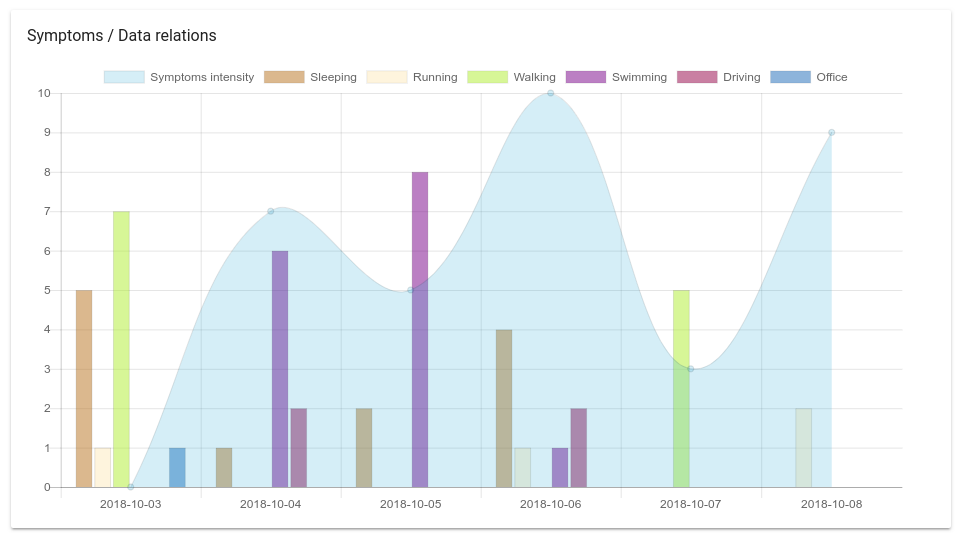 At this very time there's no cure for RLS because its causes are mainly unknown.

It's known to be related to iron deficiency, magnesium deficiency, stress, coffee or alcohol abuse, poor sleep hygiene and so on, but none of these apparently is the real trigger. Someone could have perfect blood analysis, or drink no coffee at all and suffer from RLS, yet.
It's mainly known that RLS is genetically transmissible, and it is often related to other syndrome like fibromyalgia, but the lack of evidence of a single (or multible) symptom make hard to find certain causes links.
Here it comes RLS App.

With the power of current tecnology we are able to log almost every activity and status of a person, putting it on relations with symptoms and trying to find possible links.

RLS App will allow the user to log (almost) everything:
food
sport
physical status
mental status
drugs
and obviously a detailed log of symptoms, too:
name of the symptom
fate
start / end time
involved limb
intensity (from 1 to 10)
additional notes
By inserting the activities in a database (private and encrypted, residing locally on the user's device) it will be possible to create a data archive to be related and processed.  It will be possible to check if some activities, foods or drugs can benefit or otherwise harm, limiting or increasing the symptoms.
Obviously, the analysis of data is to be entrusted only and exclusively to a specialized doctor and the developer assumes no liability whatsoever arising from incorrect deductions on the basis of the statistical data provided. Each user is responsible for their data entered and must evaluate a possible therapy with his doctor avoiding to draw incorrect conclusions on the basis of the statistical data proposed by the graphs themselves.
Within the app there will be a community where you can anonymously exchange (if you want) your data to interpolate causal links with others: you could find, i.e., that a person of the same sex, height and weight, if she does physical activity in the afternoon and takes magnesium in an amount X, she tends to limit the symptoms.
On the other hand, others may find in some foods, such as peanuts, a triggering source of the problem.
There will also be a news section to stay up to date on the topic and other features to be defined once the first version has been released.
The app will be available for Android and for iOS.
A considerable amount of time and work is required for the development of this app: I am a software developer and I can manage all aspects of development but I need funds to be able to devote full time.
The development time of such an app is estimated in about a year, considering design, production, beta testing, staging, deploy.
The financial support for the development of the first version of the app is essential for the project to be followed continuously and effectively.
All supporters will be cited in the app's credits.
Click here to support RLS App development:
In addition, you can also donate to PayPal ( rlsapp (at) allartsoftworks.com )
or if you like cryptocurrencies, in Ethereum, to MyEtherWallet address (ERC 20):
THANK YOU!